Welcome to my new website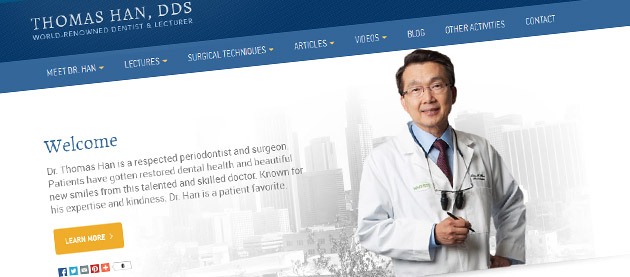 I feel excited and privileged to share the past 30 years of my thoughts and dental experiences with you by launching my website.
Many of you have sent me emails asking for surgical information, often after my presentations, and I hope that this website will answer some of those questions.
This site archives articles and book chapters that I have published and contributed to periodontal and dental implant surgical techniques. It contains lectures, video materials, and photographs of activities with the dental colleagues and friends I have had the privilege of meeting through learning and teaching dentistry over the years. Most importantly, it contains a blog section that I hope to share with my dental colleagues on my thoughts on current issues and topics related to implant surgeries, materials, and techniques. I hope you will find it useful and that it will generate much stimulating discussion.
My upcoming blog will be on my assessment of the Dr. Joseph Kan's and Dr. Homa Zadeh's lectures on immediate implant placement, which I had a privilege of listening to at the 2014 Dental XP Global Symposium in Miami, Florida last month. Thanks for participating.