Immediate One Stage Implant Placement: Maxillary Laterals with severe Periodontal Bone Loss (Dr. Thomas Han and Dr. Dan Nelson)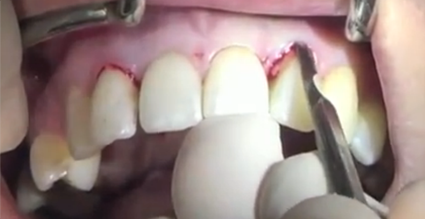 Periodontally hopeless maxillary laterals are extracted and immediate implants placed with simultaneous bone and soft tissue grafting. Esthetically Predictable Minimally Invasive Approach (refer to Clinical Technique Section in navigation bar for Power Point presentation).
Read the published related article of this technique "Crescent Shaped Free Connective Tissue" in the Journal of Implant and Advanced clinical Dentistry(JIACD – www.jiacd.com), and "Immediate Implant Placement" in the Prac. Perio. Aesthetic. Dent. journal. You can find these papers in the "Article" section of this web site.